"On 16th October 1978, Karol Wojtyla - Cardinal of Krakow, was elected to the throne of St. Peter much to the surprise of many. He was a star, young, strong, and in the spotlight of the media - a man incomparable in his words and gestures. Karol Wojtyla was absolutely authentic without role models, yet he made a positive impact and set an example that the world continues to emulate to this day! " 
Sarah Badion.
Herzliche Einladung zu einer Feierlichen heiligen Messe am 18. Mai 2020, 18:00 Uhr aus Anlass des 100. Geburtstags des hl. Johannes Paul II.  "Fürchtet euch nicht! Reißt weit die Tore auf für Christus!" Hauptzelebrant: P. Dr. Christoph Kardinal Schönborn (*) Die Hl. Messe wird in deutscher Sprache mit internationalen Akzenten gefeiert. Als Gemeinschaft vieler […]
Herzliche Einladung zur Wiener Bittprozession am 12. September 2019. Diese Prozession am Tag des Maria-Namen-Festes erfreut sich Jahr für Jahr immer größerer Beliebtheit! Auch heuer wird sie geistlich wieder von Prof. P. Dr.  Bernhard Vošicky OCist geleitet. Mit Gebet und Gesang durch die Strassen und Gassen rund um die wichtigsten Ämter Österreichs, unter dem Motto […]
Am Sonntag, den 5. Mai 2019, wird im Wiener Stephansdom eine Reliquie des Hl. Johannes Paul II. eingesetzt. Erzbischof Mieczyslaw Mokrzycki, ehemaliger Sekretär Papst Johannes Paul II., kommt auf Einladung von Kardinal Schönborn nach Wien. Während einer hl. Messe um 18:00 Uhr im Stephansdom wird eine Reliquie des heiligen Papstes Johannes Paul II. übergeben. Das […]
On 20th October 2017 during the opening ceremony of the "Europe for Christ" congress in Czestochowa in Poland, Cardinal Stanisław Dziwisz called for the advocation of John Paul II as Patron of Europe.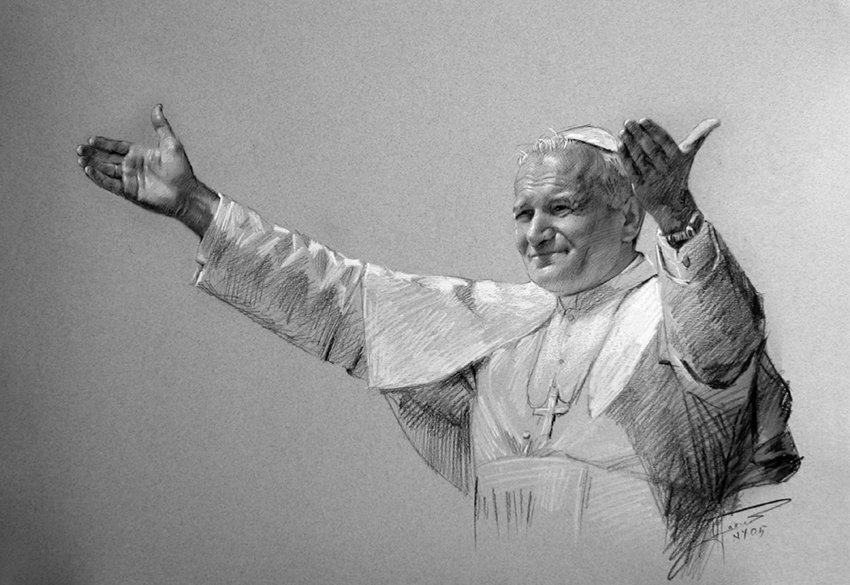 We are a group of people who fully identify with this idea and we would be very happy to have a Patron Saint to help us with our challenges, a Patron who understands us and can intercede for us.
Europe is currently experiencing a deep crisis on many levels. Many of the decisions that we make in situations we experience in our daily lives, are in conflict with our Christian conscience.  Consequently, we increasingly drift away from our Christian roots.
St. John Paul II please pray for the renewal of the faith in Europe, please pray for the preservation of Christian morals in politics, in education and in our social life. Pray for peace, pray for our families and for the youth. Intercede for the appreciation of life from its beginning to its dignified end, please pray for us.
Almost thirty years ago, Pope John Paul II already spoke about the numerous threats to the future of Christianity in Europe. Even then, his speeches, sermons and encyclicals continuously spoke about the right path to follow.
Thirty years ago, who could have imagined that communism would end in Europe?
We strongly believe that prayer can make a difference. We believe that the Holy Patron, through his intercession for Europe and for the Church, will continue to support us "from above".