"Fear not! Open…yes open the door wide for Christ! "
"On 16th October 1978, Karol Wojtyla – Cardinal of Krakow, was elected to the throne of St. Peter much to the surprise of many. He was a star, young, strong, and in the spotlight of the media – a man incomparable in his words and gestures. Karol Wojtyla was absolutely authentic without role models, yet he made a positive impact and set an example that the world continues to emulate to this day! "  
Sarah Badion.
100 Holy Mass for 100th birthday
Help, join in and let the birthday mass be celebrated in your church as well!
masses in a birthday bouquet for St. John Paul II
Art competition "John Paul II – a friend of our family"
Competition for children and youth under the honorary patronage of
Giuseppe Afrune
personal painter John Paul II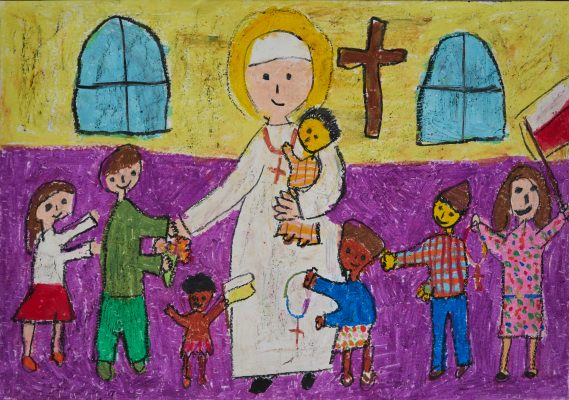 Eine Betrachtung zum Sonntag der Göttlichen Barmherzigkeit Heilige, Mystikerin, Ordensfrau der Kirche: Schwester Maria Faustyna vom Allerheiligsten Sakrament Foto: marian.org / wikimedia (CC0) Im Heiligen Jahr 2000, am 30. April., sprach Johannes Paul II. die Mystikerin Schwester Faustyna Kowalska heilig. Die Kirche Gottes kann auch heute nichts Besseres tun, als die "große Botschaft der göttlichen […]
Intercession of St. John Paul II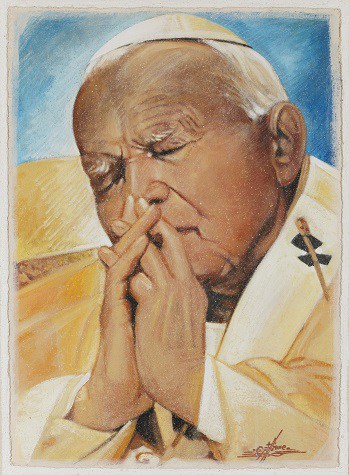 Giuseppe Afrune: Papa Giovanni Paolo II 
During the service before the Blessed Sacrament and the mass of our community, we pray in all intentions entrusted to us through the intercession of Saint. John Paul II.
We also invite you to pray together. 
Prayer Community of St. John Paul II
Praying together, growing together
On 20th October 2017 during the opening ceremony of the "Europe for Christ" congress in Czestochowa in Poland, Cardinal Stanisław Dziwisz called for the advocation of John Paul II as

Patron of Europe

.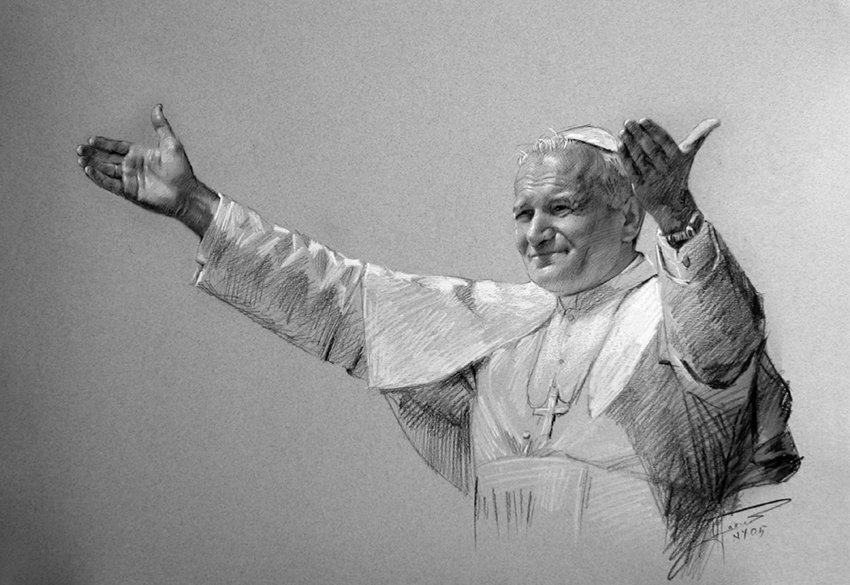 We are a group of people who fully identify with this idea and we would be very happy to have a Patron Saint to help us with our challenges, a Patron who understands us and can intercede for us.
Europe is currently experiencing a deep crisis on many levels. Many of the decisions that we make in situations we experience in our daily lives, are in conflict with our Christian conscience.  Consequently, we increasingly drift away from our Christian roots.
St. John Paul II please pray for the renewal of the faith in Europe, please pray for the preservation of Christian morals in politics, in education and in our social life. Pray for peace, pray for our families and for the youth. Intercede for the appreciation of life from its beginning to its dignified end, please pray for us.
Almost thirty years ago, Pope John Paul II already spoke about the numerous threats to the future of Christianity in Europe. Even then, his speeches, sermons and encyclicals continuously spoke about the right path to follow.
Thirty years ago, who could have imagined that communism would end in Europe?
We strongly believe that prayer can make a difference. We believe that the Holy Patron, through his intercession for Europe and for the Church, will continue to support us "from above".