"On 16th October 1978, Karol Wojtyla - Cardinal of Krakow, was elected to the throne of St. Peter much to the surprise of many. He was a star, young, strong, and in the spotlight of the media - a man incomparable in his words and gestures. Karol Wojtyla was absolutely authentic without role models, yet he made a positive impact and set an example that the world continues to emulate to this day! " 
Sarah Badion.
  VATIKANSTADT , 02 April, 2020 / 12:00 AM (Nach CNA Deutsch).- Wir brauchen einander, um gemeinsam auf Fürsprache des heiligen Papstes den barmherzigen Gott anzurufen und ihn zu bitten, dass die Coronavirus-Pandemie aufhören möge: Das schreibt Kardinal Stanisław Dziwisz, der am heutigen 2. April zum 15. Jahrestag des Todes von Johannes Paul II. zur […]
Gott unser Vater, wir kommen in unserer Not zu dir, um dich um Schutz vor dem Corona-Virus zu bitten, der Leben gekostet hat und viel Schaden über die Menschen bringt. Wir beten um deine Gnade: Für die Menschen, die das Virus erforschen und gegen seine Verbreitung kämpfen. Führe die Hände und Gedanken der Mediziner, auf […]
"Er sagte: Selig, die arm sind vor Gott; denn ihnen gehört das Himmelreich. Selig die Trauernden; denn sie werden getröstet werden. Selig, die keine Gewalt anwenden; denn sie werden das Land erben. Selig, die hungern und dürsten nach der Gerechtigkeit; denn sie werden satt werden. Selig die Barmherzigen; denn sie werden Erbarmen finden. Selig, die […]
On 20th October 2017 during the opening ceremony of the "Europe for Christ" congress in Czestochowa in Poland, Cardinal Stanisław Dziwisz called for the advocation of John Paul II as Patron of Europe.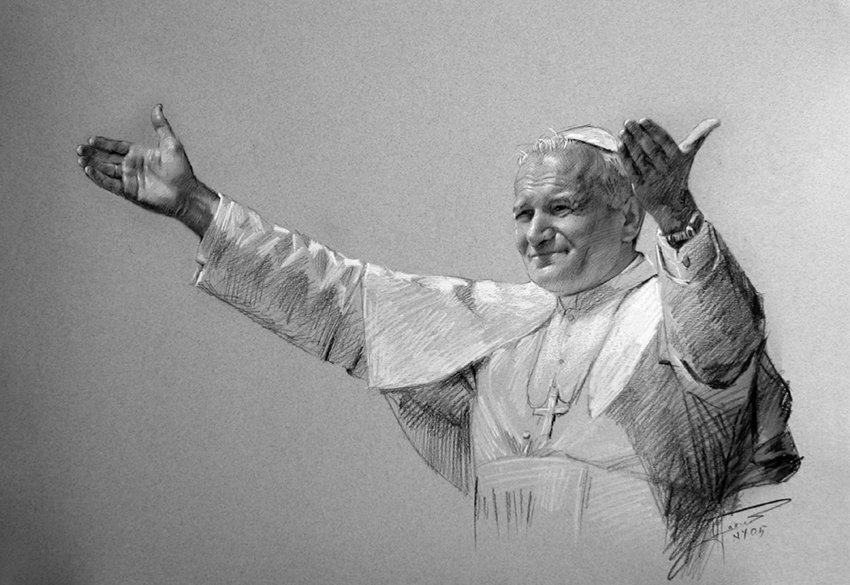 We are a group of people who fully identify with this idea and we would be very happy to have a Patron Saint to help us with our challenges, a Patron who understands us and can intercede for us.
Europe is currently experiencing a deep crisis on many levels. Many of the decisions that we make in situations we experience in our daily lives, are in conflict with our Christian conscience.  Consequently, we increasingly drift away from our Christian roots.
St. John Paul II please pray for the renewal of the faith in Europe, please pray for the preservation of Christian morals in politics, in education and in our social life. Pray for peace, pray for our families and for the youth. Intercede for the appreciation of life from its beginning to its dignified end, please pray for us.
Almost thirty years ago, Pope John Paul II already spoke about the numerous threats to the future of Christianity in Europe. Even then, his speeches, sermons and encyclicals continuously spoke about the right path to follow.
Thirty years ago, who could have imagined that communism would end in Europe?
We strongly believe that prayer can make a difference. We believe that the Holy Patron, through his intercession for Europe and for the Church, will continue to support us "from above".